As an Amazon Associate, I earn from qualifying purchases
The line between an impact driver vs hammer drill is often grayed out to people unaware of their differences.
We can't blame them either; these tools look essentially the same. Any non-experienced pair of eyes can get baffled.
Regardless of how similar they may seem, it's crucial to understand the distinctions of impact driver vs hammer drill. It's okay if you need some help with that – we all start at some point.
Without further ado, let's get down to the details and find out more.
Impact Driver or Hammer Drill?
As we are talking about our recommended products – let's now help you choose one.
Mechanism
Before we get to applications, we should talk about how they work. Hammer drills use a combination of hammer action (hitting the drill bits back and forth on their axis) and a rotational force (the drill bits spinning).
As for impact drivers, they work differently. Instead of hammering in the same direction that you're drilling a hole in, a rotating component hammers the target from the sides in sudden bursts.
An impact driver's high torque output can help you get screws to come in and out without a sweat.
However, you don't have a lot of granular control due to its sudden jerky movements.
Hammer drills can be controlled more effortlessly; they are much more powerful too. They are more precise at drilling through things.
Usage
Impact drivers are usually better suited for loosening or tightening screws and fasteners. Hence, impact drivers are a better choice for jobs such as woodwork, or things that require a lot of screwing.
On the other hand, hammer drills are more common for drilling challenging surfaces, e.g., concrete. The precision that they provide creates a clean result. However, the lack of torque means they aren't as good as impact drivers for fastening or loosening nuts and bolts.
These are the essential distinctions between the two types of tools.
Impact Driver
The most significant thing about an impact driver is the way it exerts force onto the target.
These drivers use a rotational force to drive the bolts and fasteners through a surface.
Unlike the usual tools we know, they are better suited for tasks like driving screws or fasteners in, and taking them out.
If you have a corroded nut that is too stubborn to come out, an impact driver should be your go-to option.
What makes it so good is its high torque output that provides sudden blows of force to get the work done.
Nevertheless, there is a negative side to these tools. These don't perform well when it comes to tasks that require very precise control. Other than that, they're terrific within their comfort zone.
Top 2 Best Impact Drivers to Buy
You can find a lot of options in the market. We have considered the price to performance ratio, durability, and efficiency to come up with a suitable list for you.
Black+Decker 20V Max Cordless Drill
As our first driver, we have a very affordable one from Black+Decker. If you have read about their products, you probably know that they have produced tons of great products to date. And the trend continues with this one too.
If you want a lightweight and compact driver that does its job well, you can't go wrong with this one.
Be it wood, metal, or plastic, you can drill through anything. It's quite versatile from that aspect.
As expected from an impact driver, driving screws is buttery smooth with it. To make it even smoother, it has a soft handle that ensures a better grip.
It will not slip out of your hand, or give you any trouble when you're trying to get a job done.
What's impressive is that it comes with thirty versatile accessories that can do most things you would need an impact driver for.
It becomes even more impressive if we consider the fact that it is less expensive than most other impact drivers.
This driver also features a twenty-four-position clutch. So, you can adjust the amount of power you need.
This will help improve the inaccuracy issue and enable you do to precise works.
Lastly, as this is a cordless tool, it is fully portable. One could argue that having a battery as power source is a negative feature.
But the battery lasts fairly well, and it's compatible with a lot of other Black+Decker tools.
Latest Guide: Best 3/8 Torque Wrench
Makita XT706 Cordless Combo Kit
Yes, affordable DIY-friendly drivers are impressive. There's no doubt about that.
But your tasks might require something that is geared towards heavier workload. If that is the case for you, you're in the right section.
This seven-piece combo kit from Makita is a beast. To the untrained eye, this might seem way too costly when juxtaposed with other ones. But we would argue that this is a steal.
Of course, that statement needs some justification. If you try to buy the seven items in this combo kit separately (of excellent quality), it is bound to leave a massive dent in your wallet. In that aspect, this one gives you a great deal.
The impact driver on this kit is just as impressive as the other tools. It can produce a hefty torque of up to 1460 inch-lb.
Not only that, it also has two options when it comes to speed. They are 0-2900 or 0-3500 rotations per minute, respectively.
As this is a cordless pack of tools, battery performance is crucial. Two batteries are included in the package.
While the battery performance mostly depends on how much power they have to use, these should be reasonably adequate.
Furthermore, the fact that it comes with a charger that can quickly fill up the batteries is very impressive.
Another noteworthy factor is that these tools come with a good quality bag. A lot of brands tend to not provide a good quality bag.
Related Article: Cordless 3/8 Impact Wrench Review
Hammer Drill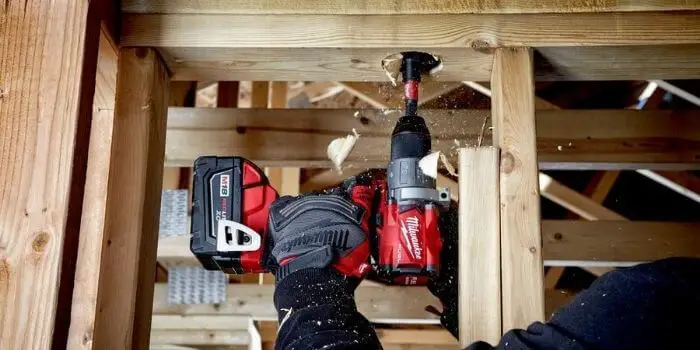 As the name suggests, hammer drills use a mechanism that is similar to hammering something down.
So, instead of the rotating mechanism that impact drivers use, a hammer drill uses direct force to force something in (e.g., a nail).
You could compare this tool to a jackhammer – except much smaller and easier to handle.
Due to the way it works, a hammer drill does a much better job of drilling on hard surfaces, such as concrete.
These drills hit the target hard at a rapid succession. They work with a built-in clutch that can spin the drill bit while punching it back and forth on its axis.
Compared to a traditional drill, the hammering force makes it much more robust.
Top 2 Best Hammer Drills to Buy
Before buying a hammer drill, you need to take a bunch of things into consideration.
The size, weight, impacts per minute, and a ton of other things matter a lot. We've chosen a bunch for you.
Our first hammer drill on the list will impressively do your job without breaking the bank.
When looking for a hammer drill, coming across products that don't have quality materials is not unusual.Thankfully, that is not the case here.
The biggest highlight of this tool is the amount of power it can churn out. Among all the cordless hammer drills, this is one of the best drills you can find, with an impressive 1200 inch-lb. power. Only a few drills can beat this model.
When you hold drill, the first thing you will notice is how compact its design is.
It is shorter than the previous Fuel drills. Especially when you consider the amount of power it holds, it's remarkable.
The ergonomic handle and rubberized grip improve the experience further.
Another impressive feature of this drill is the four different modes of speed.
On the first three, you can go up to three RPMs – 0-900, 0-800, and 0-3600. But the most impressive one is the self-tapping screw mode.
This mode ensures that you don't break a screw or ruin your bits by trying to force it into something it can't drill in. Securing this makes the whole experience much better.
However, there is a known issue. A lot of users have said that the drill gets quite hot after using it for a while.
It can cause a dent in the user experience, sure, but it isn't a deal-breaker.
Mophorn Electric Demolition Hammer
It's time for some heavy-duty tools. If you're a professional who requires a lot of raw power, then small hammer drills will not cut it for you.
You are going to need a tool that can drill through even the most rigid surfaces.
As the name suggests, it's a 2200W beast. So, you can imagine the amount of power it can churn out.
It can get through concrete or ground rods without breaking a sweat. Not just that, you can also use this for heavy workloads like asphalt removal.
This electric hammer comes with two chisels in the box – one bull point and a flat one.
They are pretty good in terms of quality; and they do their job well. Assembling or disassembling them is very easy as well. You only need to make sure that you have clamped them properly.
To ensure that a product stands the test of time, it's crucial to use quality materials. This drill ticks that box too.
The outer shell is drop-resistant. It does not get rusted either. Moreover, the 360-degree swiveling handle helps you handle it easily.
A common issue with heavy-duty tools is heat dissipation since they can get very heated while working.
The cover Mophorn used is adequately ventilated. It gets rid of heat before it gets too hot.
Lastly, let's talk about the ease of use. This tool may seem intimidating, but it is quite easy to use.
Nevertheless, it's a little heavy, which is expected. You might need to get used to the weight at first.
Final Words
With our reviews and explanations, it should now be less baffling for you to decide what you prefer on the issue of impact driver vs hammer drill.
Lastly, always make sure that you wear protective gear while working. Enjoy!