As an Amazon Associate, I earn from qualifying purchases
Best Torque Wrench guide for who seeking to buy a torque wrench. How do you handle nuts and bolts that need fastening?
Almost all of the answers to this question would be, "We use a Torque Wrench for the job."
Why?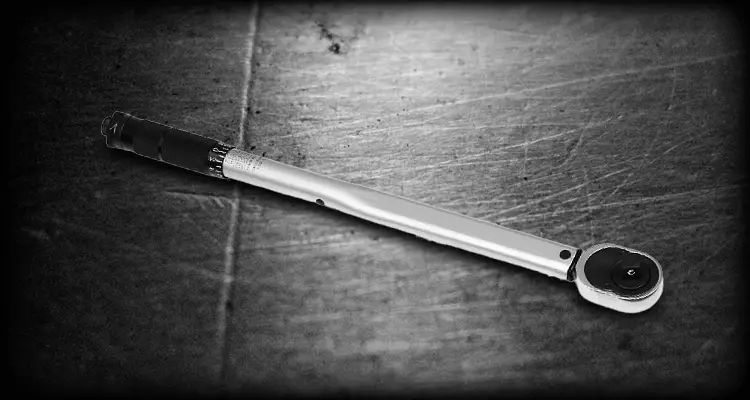 Well, with standard wrenches, we can't regulate the force we apply on a nut or a bolt. Using just about any wrench can result in too low or too high tightening force (AKA Torque).

This can damage the intricate parts of a scope, vehicles, latches, and so on.
The Torque Wrench offers a nice solution to the problem. With this fastening tool, you are in control of how tightly you want the nuts and bolts to fit snugly in place.
Thanks to precise mechanisms, setting up the level of Torque is easy. As such, people don't have to rely on physical force alone and guess. The same mechanisms allow the user to stop once the level is reached.
Naturally, many find this device incredibly useful. They use products that are durable, have a nice feel to them, and can handle the knocks from time to time.
If you guys are searching for a tool like this, consider yourselves lucky! This article is about to discuss the torque wrench types. I'll recommend you a heap of choices that you can buy and use for fastening nuts and bolts of different kinds.
I'll also drop few golden nuggets on how to choose the good torque wrench for yourselves without any expert help.
Interested?
Let's get to it then.
Top Torque Wrench Reviews – Video Guide
Types of Torque Wrenches We Have Today
If you are dabbling in Torque Wrenches for the first time, you should know a thing or two. First is the fact that this tool comes in different types. That's right. Even torque wrench has types. Three to be exact. Each type has its own perks. Let me just give you a rundown. That way, you'll know what you are dealing with.

The "Click" Type
The first type is the "Click Torque Wrench." Every torque wrench is the same in principle. You set the torque and apply some pressure. When the desired level is reached, you stop.
With these "Click" torque wrenches, you set the torque and get to work. When the torque reaches the desired level, you'll hear a loud "Click" telling you to stop turning the tool further.
This loud click saves you the trouble of looking at the gauge at a regular interval. The tool won't prevent you from turning it after reaching the torque count. It is absolutely crucial that you stop turning the wrench after hearing the "Click."
Electric (AKA Digital) Torque Wrench
These are basically the same as their cousins. The only difference is, upon reaching the desired torque level, you hear beeping noise instead of a "Click."
Best Electric Torque Wrench Models feature a digital meter that tells you the torque level. It is super convenient than interpreting an etched scale if you ask me. This eliminates chances of your eyes deceiving you.
Besides the current torque level, some will tell you the maximum level of torque you applied. Also, some of these come with a memory to store information on different force levels you worked with for different tools.
As expected, these bells and whistles aren't cheap. They end up shedding extra bucks. Yet, these are cool features to have at your disposal. If the budget doesn't concern you and you need some added convenience from these tools, by all means, get one of these.
Beam Torque Wrenches
Let's imagine for a moment that price of this tool DOES concern you. If your hands and feet are tied by your budget, I suggest you go for the "Oldest" players of the game. These are… the super-cheap "Beam Torque Wrenches."
These things have a big gauge in front. It measures the level of torque you apply in real time. Beam-style wrenches can cause Parallax errors if you are not careful. When using it on intricate mechanisms, relying solely on your eyes can be tricky.
One good side is that these things are heavy. I am a big fan of durability when considering a torque wrench. In this case, the weight adds to the advantage of these things. You won't have to change it up every two or three years.
Best Torque Wrench Models that I Recommend
Now that you know a little about the varieties of torque wrenches you can expect, here are my recommendations as to which you should buy. No matter if you are a garage warrior or a casual tinkerer at home, you'll certainly find your match on this list.
When you are fastening the scope of your favorite rifle, you need to it carefully and accurately. Not just any torque wrench will do. I get that. That is why you need to look into Accurizing Torque Wrench from Wheeler Firearms.
This is an F.A.T. wrench that you need to operate by hand. Take it from an expert, nothing gives you the feel of flexibility and comfort other than a hand-driven wrench. Think of it as the screwdriver all of us use. But for guns. You can adjust, twist, and turn the accessories the old way.
Wheeler Accurizing Wrench makes things easy on you by giving you an ergonomic handle to work with. Your hands won't get tired while operating it. This Click/Clutch based device can apply between 10 to 65 in-lbs. torque. If you feel like it, you can increase it by 5in-lbs. each time.
I loved the hex socket of ¼". It is standard, I know. The manufacturers experimented with the bits instead of the socket. You get 10 of the most popular bits gunsmiths use to tender their guns with care.
There are two things you need to remember while using this F.A.T. wrench. Firstly, the percentage of accuracy while using this wrench for exerting up to 40 in-lbs. torque is +/-2in-lbs. The accuracy level shoots up to -/+5 in-lbs. when exerting torque of up to 65 in-lbs. Any more torque and your equipment will get damaged.
The second thing you need to remember is to set the piece of equipment to the lowest settings after you are done using it.
This product is compatible with the 80-piece screwdriver set from Wheeler. Also, if you damage the bits by any chance, you can afford replacement bits. They are cheap.
Things I Liked about this Torque Wrench
This device exerts decent amount of torque despite being quite small in size and shape.
The ergonomic handle of this thing provides the user with comfort and ease while operating.
One can tighten or join together a host of gun equipment with this wrench in question.
You can pair ten bits with this little hex-tip wrench from Wheeler.
This thing comes in a cool storage pouch.
Things I Didn't Like about this Torque Wrench
I know, I am nitpicking at this point but I could use with more bits with the package.
What I Think: This is definitely one of the simplest wrenches available when you think of it. Many of you may prefer an advanced model, I know. But when it comes to guns, there's nothing like a good ol' comfortable manual torque wrench. This one has an ergonomic handle too!
Is this the best gunsmith torque wrench around? Maybe. It ranks within top three for sure.
Let's take a break from manual labor while measuring torque, shall we? Let's shift our focus to one of the more "Recent" products. Yup, an electric torque wrench it is! ACDelco ARM601 happens to be my favorite and perhaps the best digital torque wrench out there.
I favor it for the simplicity and diversity it offers. You can measure torque in as many as three different units. Feel free to switch between in-lbs, N-m, and Kg-cm. Thanks to the buttons onboard, you can see current torque, the mode you are operating with, and measurements.
The perk of using Electric Torque Wrenches is that you can compare different torque levels. This is true for ACDelco too! You can see maximum torque you applied to a lug nut. Also, you can trace different levels to find out which one works better for you.
It comes with a reversible ratchet just like other varieties of the torque wrench on this list. This reversible ratchet allows ARM601 to work in both clockwise and anti-clockwise direction. Want to work with a different ratchet? Just press the quick release button and the ratchet will come off.
The thing I like about ACDelco is that it comes with a soft grip. It fits right into my palms comforting me.The texture on the handle won't let it slip. I can tell, the user won't have major fatigue issues even after hours of using it.
This is pretty easy to operate. Just put in the torque count you want for the nut and turn it. There's a loud buzzer in place. It will let you know when you need to stop turning.
ADelco ARM601 runs on three AAA size batteries. If you haven't guessed by now, this is a lightweight torque wrench due to the batteries being small.

Things I Liked about this Torque Wrench
I could operate this torque wrench in a jiffy; the controls are pretty easy to interpret.
It shows you torque count in as many as three different units for your convenience.
You can set this model up to display peak torque level and trace different levels as well.
ACDelco ARM601 is lightweight and has a soft grip handle for less fatigue.
It runs on cheap but effective AAA batteries. You need three.
The ARM601 features a reversible ratchet that you can switch with any other.
Things I Didn't Like about this Torque Wrench
I can't find fault with the wrench.
What I Think: ARM601 is an automatic wrench that does all the job for you and weighs as much as a feather. You even have a loud buzzer and three different units of measuring torque. The cherry on top is the reversible and removable ratchet. A definite recommendation! In fact, I'll insist you to buy this!
EPAuto brought out ½-inch Click Torque Wrench that does what it says. And that is accurate fastening of your automobile parts. Is this the torque wrench 2021 has to offer? It is yet to be seen. But I liked the construction. The makers used hardened Chrome and Vanadium alloy to tough it up.
The handle is well-made too. You have a knurled handle to play with. This model from EPAuto boasts a non-slip surface. It makes gripping easy. I guess, my sweaty hands won't create a problem any longer.
As a whole, this wrench is corrosion resistant. People can get their hands on a product that will last for years. The "Satin" finish the main catalyst here.What interested me, even more, is the Scale or the Scales. This little thing comes with dual scales that are easily readable. I have to thank the high contrast design for that. Good visibility helps when you are tightening intricate parts. The scales tell you how much torque you are putting on the parts.
If you don't know how to use this "Click" Torque Wrench, it is easy. Just set a torque value that you want to pressure the nuts with. Keep applying pressure on the nuts and bolts. You'll hear a "Click" loud and clear. This is when you'll know that you've achieved the desired torque level.
We already know that wrenches have an accuracy variant. Well, at the height of performance, this wrench can be 4% more or 4% less accurate.
Impressed yet? To top it all off, this thing comes in a nice casing. The casing does a great job protecting this wrench from damages.
Things I Liked about this Torque Wrench
This wrench is big in size; it allows you to handle bigger maintenance jobs
You have a scale that measures the torque level when working with nuts and bolts.
You can know for sure when the set torque level is reached. Just be aware of the "Click" sound.
The ergonomic Anti-Slip handle makes sure you remain comforted while using this thing.
The accuracy measurement error adjustment is +4%/-4%. So, you are never too short of the mark
Things I Didn't Like about this Torque Wrench
It has a 1/2-inch hex nut that exerts 25lbs. of force per 250 feet. Any more than that and the wrench will snap.
What I Think: This is a well-made wrench for any automobile vehicle. The scales are particularly interesting. With clear markings, you will have precise knowledge of how much torque you need to fasten the nuts and bolts. It is a good bang for the buck. The chrome alloy provides it long lifespan as well.
Tekton 24335 is suitable for fine-tuning your cars, bikes, and any other vehicle. I've included this on my list of diverse types of wrenches simply because it gives you a multitude of options.
You have the flexibility of buying this thing solo. Buy it with a set of adapters if you wish. Or, you can purchase it with a breaker bar. Depending on the combination you choose, the perks are different.
I like the construction of this thing. All of it is steel. Not even a shred of plastic is involved in the making. I am not making any complaints in this department.
I loved the bright scale that is clearly visible. It is a "Click" wrench. Naturally, you'll hear a distinguishable "Click" sound when the wrench reaches the intended level.
The scale is designed at an increment of 10. One full turn of the handle increases torque by 10ft./pound And, one "Click" sound when turning the handle ensures you go up and down according to the foot/pound ratio. The maximum torque one can achieve with this wrench is 10-150 ft-lbs. or 13.6 – 203.5 Nm.
You get a ratcheted head with TEKTON 24335. It helps to hold the nuts and bolts tightly. Thanks to this, one can turn the wrench both in clockwise and anti-clockwise directions.
Moreover, TEKTON 24335 comes pre-calibrated at ±4%. This allows anyone to use it without fearing the bolts cracking or the wrench malfunctioning.
If you buy this thing with an adapter (which is optional), you can expand its usage. Simply add one of the adapters from the package with the socket on one end, and you've got yourselves a versatile tool to work with. The adapters enhance the capabilities of your wrench.
These things are sturdy. You have chrome and vanadium steel to thank for that. Also, these are rustproof thanks to the black oxide coating.
When it comes to performance, these adapters pair with your wrench perfectly. Be sure to use the spring-loaded detent balls to attach these with the ratchet head. These adapters securely lock onto drive tangs thanks to the "Through Hole" system.
Now, if you do decide to buy Tekton 24335 ½-inch Torque Wrench with a breaker bar (which is optional too), you can work your way around loose or rusty nuts and bolts. Simply, break them! Also, this bar allows you to work at an angle favorable to you up to 180 degrees.

Things I Liked about this Torque Wrench
This wrench has hardened steel construction that makes it last the test of time.
Tekton 24335 is pre-calibrated to stop nuts and bolts from breaking. An expert can calibrate it further.
Additional adapters (optional purchase) can help people to grip the nuts and bolts of various sizes.
Another optional purchase, a breaker bar can help you take care of rusty nuts and bolts.
Adjusting the scale of this thing is really easy compared to other wrenches.
Things I Didn't Like about this Torque Wrench
The tool could have had a glossier look if the manufacturers wanted it to.
What I Think: This wrench is pretty competent on its own. I deem it to be the high-quality torque wrench under 100 dollars. The performance is par for the course thanks to a ratcheted head. Scale adjustments and calibrations are easy to follow. If you decide to buy this alongside the adapters or breaker bar, this could turn out to be a profitable bargain.
As I move to the middle part of my list, I give you Tekton 24340. It is a wrench with "1/2-inch Drive" and impressive torque levels. A length of 25 inches makes it suitable for big vehicles (automobiles or semi-trucks). Thanks to the length, you can exercise considerable pressure per feet.
I like torque wrenches made of steel. You have to turn automotive torque wrenches hard when dealing with large nuts and bolts. The bigger the nuts, the greater the force should be. Applying such force can be tricky if the wrench has any plastic parts. Thankfully, Tekton 24340 has none.
As you can see, it has dual scales in ft.-lbs. and Newton-Meter. Both the scales are clearly visible. You can see them in low light. People call it a "High Contrast" scale. You can adjust these easily as well. Just turn the knob beneath the wrench to a value. Then start turning it. Once you hear the "Click," it's time to stop.
One can muster up maximum torque of 25-250 ft.-lbs. or 33.9 – 338.9 Nm. This is easily the top torque wrench on my list when it comes to applying this much force manually.
Like all the Tekton models on my list, this one has a ratcheted teeth as well. This wrench grips nuts, bolts, and screws tightly while you turn them. It allows you to go for tougher operations and intricate fine-tuning. You can even turn the tool up to 180 degrees thanks to the head.
Tekton 24340 saves you from the trouble of recalibration after one year. It comes pre-calibrated to ±4%. This allows you to read and interpret measurements flawlessly.
To put the cherry on top, you have the sturdy case. No matter how forcefully you drop this thing, the case will save it from the imminent doom. A durable storage case is always a "Win" in my book.

Things I Liked about this Torque Wrench
The length is perfect for automobile fine-tuning and any professional garage work you may have.
Recalibrating this thing is super easy. Just tinker around with the little black knob thing in the middle.
The case is one thing I can vouch for, with a steel construction, it is an additional safety initiative.
Operating this thing is a piece of cake. Everything from setup and the "Click" sound works well.
Things I Didn't Like about this Torque Wrench
The only real complain I could muster up for this behemoth is that it could use more teeth on the ratchet.
What I Think: Tekton is my go-to brand when I look for top-level automobile wrenches. There's no doubt that this model is a good torque wrench for the money. It has the size, the flexibility, and the durability to serve you and your vehicle for years to come.
Forgive me for including another EPAuto ½-inch drive tool on my list of top Torque Wrench models. But I couldn't resist. This one deserves to be on the list. Yes, even if it doesn't exert as much torque as the earlier model.
You have the usual steel construction for durability. Chrome Vanadium alloy makes sure you can use this thing for a long… long time. Thanks to the ½-inch drive, you can tackle relatively large lug nuts.
Then there's the knurled handle. While turning it, you won't feel the tool pushing back awkwardly on your palms. The "Non-Slip" design makes it comfortable to hold and use. For a long time too.
With the engraved scale on the steel body, you'll be able to set the desired torque level for your devices and vehicles. The markings are reasonably clear for anyone to understand. It is a dual range scale. You won't have any problems.
People can conjure up 25 ~ 250 ft.-lb. or 33.9 ~ 338.9 Nm worth of torque with this tool.
Whenever you want to set up a range for this device, just turn the knob at the bottom. Lock it at the desired mark and you are done! You'll hear "Clicks" as you use it. Once this wrench reaches the intended level, it will click for a final time.
This wrench comes at you pre-calibrated. To ensure it performs to the peak of its abilities, manufacturers have calibrated it to ±4%. You can also calibrate it later during its working years. Just contact a professional for the job.
Lastly, you get a durable plastic case– to house this tool. It adds an extra layer of protection. With this case at hand, you can keep it safe from environmental hazards, wear, and tear.

Things I Liked about this Torque Wrench
This model from EPAuto is a sturdy wrench with chrome-vanadium alloy construction.
You have an engraved the dual-range scale with clear visibility and easier operation.
Trust me, your hands won't get tired while working with this model because of knurled grip.
You can measure the torque level using ft./lbs. or N/m units.
Setting up the torque level is as easy as turning and locking the knob at the bottom.
Things I Didn't Like about this Torque Wrench
You need to keep it all oiled up for it to work perfectly or the adjustments are going to be rough on your hands.
What I Think: There's no denying EPAuto's quality when it comes to wrenches for the automobile. Even at a throwaway price, this model maintains the signature quality that we've come to know and expect from EPAuto. This is another Good Torque Wrench for the money. Go for it if you have budget constraints.
Want something good for your bike screws, nuts, and bolts? My next entry on the list will surely please you! You were asking for a torque wrench, let's review a "Full Set!"
That's right. Venzo Bicycle Bike Torque Wrench arrives with an extra tool for sockets, Allen keys or sockets for different screws, nuts, and bolts.
Sweet deal, right? You haven't seen anything yet!
Unlike the ½-inch wrenches, this one features a ¼-inch drive. You can tackle intricate parts with this thing at the helm. Also, it comes pre-calibrated. The percentage is ±4%. Of course, you can re-calibrate it after a year by yourselves. I strongly advise taking professional help.
I almost forgot about the Allen keys! You'll have nine of these. These correspond to 3, 4, 5, 6, 8, 10, 12.5, 20, and 30 millimeters. Needless to say, this set is all your bicycle needs for any tune-up gig. Thanks to the larger keys, you'll be able to handle bigger nuts and bolts. You have flexibility by your side.
The torque range for this awesome tool set is 2 to 24 Nm. As small as it is, the range is more than enough for your bike. Operating this thing is simple as well. Just set a value, lock the nut beneath the wrench and start turning. Once you hear a click, it has reached the limit. Stop right there.
While this is great at tuning up the bicycle, I'd urge you to use this with quality bike parts. Don't use cheap tricks or cheap nuts and bolts with it. Your bike will suffer and so will this little tool.

Things I Liked about this Torque Wrench
This is a "Set." A full set gives user more flexibility than a single torque wrench.
Allen Keys of different sizes are fit for each and every nut and bolt your bike makes use of.
As usual, you get a clearly visible gauge telling you about how much torque you are applying.
At 2 – 24 Nm of torque range, this little wonder.
takes care of everything your bike can muster and throw at it.
Things I Didn't Like about this Torque Wrench
Sometimes it makes "Loud" noise and rattles while turning.
What I Think: This is one of the "Most Talked About" tools for bike adjustments. With all the added bits and pieces, it will surely make a good "Go to" tool for bicycle tune-ups. Take it from a happy customer, this is a healthy investment if you know your way around tuning and step up your game.
Let's face it, Tekton is one of the popular brands out there. All the functionalities aside, the products are attractive and durable. Each model is diverse with a different drive dimension. This one (Tekton 24320) in particular has a ¼-inch drive.
Thanks to this, you can tackle light bulbs and dashboard screws. This is made of steel from top to bottom. There aren't any plastic parts. You won't have parts wearing out or outright dying on you.
Setting up the tool is as easy as it gets. When the preset torque level is reached, you'll hear a loud "Click." Don't tweak anymore as the nuts or screws can break apart.
The ratcheted head is able to travel in reverse. This allows the user greater flexibility and convenient operation. But beware! You can only measure torque in a "Clockwise" direction.
While we are on the measurement, the tool features a "Clearly Etched" scale on the body. You can measure torque in lb./ft. and N/m units respectively. The scale is visible in low light as well.
I'm sure you've come to expect some level of pre-calibration by now. This device comes with ±4% adjustment. Be sure to re-calibrate it once it reaches one year of using or 5000 uses. This makes sure the little device stays up to the mark in terms of performance.
The signature carrying case serves as a layer of protection. It is sturdy. Even if you drop it from a height, this thing won't get damaged or loosen up.

Things I Liked about this Torque Wrench
The straightforward design makes this baby easy to store and use for newbies and pros alike.
All-Steel construction reduces wears and tears on intricate parts of this thing.
±4% calibration helps you to get through the first year or first 5000 uses before you re-calibrate.
The ratcheted head travels in reverse to add further flexibility to this tool.
One can use this thing right off the bat; no prior adjustment or setup required.
Things I Didn't Like about this Torque Wrench
People reported about not hearing "Clicks" time and again.
What I Think:This is a budget-friendly wrench. Considering Tekton's awesome products, this one hits the mark as well. This comes at a price below $50 and is suited for ¼-inch sockets. I could go for a maximum of  20 – 200 in.-lb. or 2.26 – 22.6 Nm torque on one go. The performance was more than satisfactory. For me, it served as one of the best home use torque wrench models.
Yay, I have another Tekton product amidst my shortlist of best torque wrench models. You might say this is identical to the previous one; yet, there's a difference. This is essentially an upgrade.
The first of two differences from the earlier model is in the drive measurement. The 24330 has a 3/8-inch drive. The 24320 has a ¼-inch drive. This means one can tackle larger nuts, bolts, and screws with this torque wrench than the earlier model.
The second thing to note is the force you apply per foot or meter. The latter is stronger when it comes to applying torque. You can go up to 10 – 80 ft. – lb. torque. In Newton Meters the maximum torque will translate as 13.6 – 108.5 Nm.
Besides these two metrics, everything else is more or less similar. For example, you have bright scales representing torque values in two units of measurement. People can pre-set a torque value with the knob beneath. Once the value is reached, you'll hear a loud "Click." This tells you to stop turning the screws.
The ratchet head is reversible in this case too. But you have to measure torque in a clockwise direction. Thanks to strong build, your wrench won't break apart. There are no plastic parts AT ALL. This construction makes it resistant to corrosion and rust as well.
At this point, you know that Tekton wrenches come pre-calibrated. You get ±4% calibration. It saves you from doing the job yourself the first time. You are safe for first 5000 uses and potentially more. After that, you can call in a professional and let him handle it.
There's a sealed black portion at the middle part of the tool. Use that to recalibrate it.
This tool comes with a sturdy case like the previous ones. You don't have to worry about dropping or breaking it by any means. Needless to say, the tool inside won't be harmed by a sudden shock or impact.

Things I Liked about this Torque Wrench
This unit comes handy when you need torque for bigger screws, nuts, and bolts.
This tool comes with a shiny and steel construction. No plastic parts, no wears or tears.
I like the scales, you can see what the measurement is and adjust it easily in low light too.
Recalibrating is already done by the manufacturers, expect spot-on measurements from the get go.
I liked the case as well. It is small but effective to say the least.
Things I Didn't Like about this Torque Wrench
I didn't find any fault with this device at all. It seems top notch.
What I Think: Honestly? I think this is a great wrench for automobiles. This is perfect when you need something for the spark plugs. The earlier model on this list can account for home uses. This one takes care of the outdoors for you. The value it provides at this price is unbeatable.
This one here is a bit of a surprise entry on this list. With less than 20 dollars as the price, it may very well be the best cheap torque wrench on offer. At this price, it offers a "Dual Drive" ratchet. Meaning, you can fit in .5 and .37-inch screws, lug nuts, normal nuts, and bolts inside for fine-tuning.
The steel construction clearly gives it an edge over wrenches at the similar price range. On top of that, it comes with a mirrored finish. So, people get a sleek and durable product.
Tooluxe 03703L is a "Beam Torque Wrench." Meaning, you can measure the torque while you apply it. The precise scale and positioning reduce parallax errors to naught. Furthermore, the scales are clear and well-defined. One can see the labels without difficulties.
The scale shows figures in dual units. You can take readings in Metrics format. Feel free to convert this to SAE format too. All it takes is a glance at the needle.
Don't worry about the calibration. Like other models on my list, this one comes pre-calibrated as well. You can measure up to 150 lbs. or up to 20 Meter-KGs flawlessly. That's a lot of power, right? Well, with a 17-inch shaft, you'll have all the power you'll need for the job.

Things I Liked about this Torque Wrench
This thing is a beast with the 17-inch shaft. It allows the user to conjure up tremendous pressure.
The price vs. Performance graph for this product deserves a lot of praise.
Steel construction grants this product some much-needed durability and mirror finish grant its sleekness.
The scale is unique. One can measure torque without risking parallax error of any kind.
Dual Drive makes this thing a versatile tool for your home and the garage gigs.
Things I Didn't Like about this Torque Wrench
The dial can be tricky to read as it is on the inside part of the wrench.
What I Think: You know… people should rejoice as they are getting a performer at a price so cheap. Normally, inexpensive wrenches are not all that good when it comes to tightening lug nuts. This is the exception! And a good one at that too! It operates swiftly and with force. The scale is pretty easy to read after a bit of practice as well. This is definitely a good deal in my book!
The last entry on my list of "Best Torque Wrench" models is a present for garage superheroes and home warriors alike. This time, you are getting not one, not two, but three Pittsburgh Pro Torque Wrenches. Thanks to the different drive sizes, you get to work with different types of lug nuts and bolts.
The package includes wrenches with ¼-inch, 3/8-inch, and ½-inch drives. These three products are the epitomes of versatility. Buying one solves a variety of problems and fine-tuning issues.
All these wrenches have reversible ratchets. These things help you in turning a lug nut clockwise or counterclockwise. As a result, one can operate with a sense of ease and flexibility.
"Cam and Pawl Mechanism" further adds to your comfort. Thanks to this, you don't have to twist your arms or wrists too much to get the desired level of torque.

Setting up the torque value is easy as well. All you need to do is turn the knob beneath to the desired point on the scale and turn the wrench with the nut between its teeth. Once it reaches the level you set it to, you'll hear a loud "Click."
This set is cheap but accurate as far as the measurement is concerned. You'll find the products pre-calibrated to the level of ±4% to rule out any error in measurement.

Things I Liked about this Torque Wrench
The wrench has a durable construction to rule out any physical damages while using this thing.
Pittsburgh Pro package has reversible wrenches. These allow you flexibility and comfort.
A loud "Click" sound tells you that the torque has reached the measurement level you've set.
You get three wrenches at the price of just one; so it is a win-win bargain for anybody.
Cam and Pawl Mechanism makes operating these wrenches a breeze for the users.
Things I Didn't Like about this Torque Wrench
Users have reported exerting more effort than normal to reach the intended torque level.
What I Think:People can get a quality wrench at less than 100 bucks. Sure! This package goes beyond that. Paying the same price, you get "Three" wrenches. All of these have different drive sizes. It is literally a Three-in-one deal!
Best Torque Wrench Buying Guide
I understand if none of these wrenches could interest you.
The best thing you can do now is doing your own research.
You need to judge these tools based on some parameters. Look at key factors, bells, and whistles.
This section of my article will help you with a nudge in the right direction.
Here are my golden nuggets on "How to choose the ideal torque wrench without expert help?" Call it a "Torque Wrench Buying Guide" if you would.
Look at the Material
I am a big fan of Wrenches made of Steel. These are tough nuts. Under extreme conditions, these won't break or succumb to wear and tear. People might bring up the issue of weight and complain. Sure, these things are heavier than the competition. Yet, the weight gives these things an extra layer of protection.
Many of the steel-made wrenches are Chromium coated as well. This type of coating guards them against rust. As such, the torque wrench will remain glossy for years to come.
Check Out If the Wrench Comes with a Ratcheted Head or Not
Besides the "Build Quality,"  having a ratcheted head for your torque wrench is also important. You see, ratcheted heads give you the facility of turning the wrenches up to 180 degrees.
All you have to do is apply some pressure and turn. The socket adapters towards the end of these wrenches will help it maneuver easily.
Having a ratcheted head pays. These little things prevent extra strain on your wrists and forearms. While you are at it, make a note of the teeth count of the ratchet. The more teeth, the tighter the grip of your torque wrench will be.
Test How Good it Feels to Hold the Tool
Let's say, you've bought a quality wrench at a good price. The device comes with a heap of bells and whistles. It goes well with your line of work. Yet, if you don't have a comfortable grip, everything falls apart. The main thing you need to look at is the handle.
Do measure how comfortably you can hold the tool. Moreover, how comfortable you are when turning the device. The top torque wrench brands in the business have an anti-slip grip to make sure there aren't any accidents. You can even find ones with rubber cushions.
The point is, your hands should be in a stable position while working the tool. Also, a handle with a comfortable grip helps by putting minimal stress on your hands. As a result, you won't feel fatigued at all!
How Well-Etched or Bright is the Scale?
There's no point in owning a torque wrench when you have no clue about its measurements. People who want to buy a Click Torque Wrench should go for one that has the scale clearly etched on its body.
The markings should not appear dim in contrasting the background. Also, I prefer scales that have markings using dual units.
When it comes to digital torque wrenches, you'll have to consider how bright the LED display is. Also, take into account its performance in low light.
For Beam-Style tools, make sure the scale is clearly indicated and visible. Also, people should be able to make out the needle pointing to the scale clearly. It should not mix in the background. This reduces error in judgment.
Measure the Calibration Level of Your Wrench
This is an absolutely vital aspect that you should pay attention to. Trust me, even the good torque wrench models go off the rails after one or two years of usage. This is especially true for the "Click Type" wrenches.
No matter how well you can see the scale, it can show you incorrect readings. Continuous usage loosens the bottom part of these tools. If that happens, then Godspeed people. Chances are, your readings are seldom correct.
This is where Calibration plays a vital part. It ensures the error of measurement doesn't happen. Normally wrenches come with less than 5% calibration. Depending on how often you use it, you may have to calibrate it per year or even sooner than that. I'd strongly advise you to take professional help in that case.
Check If You are Getting the Storage Case
So, you've got yourself a well-calibrated scale. Great! Now, let's say, you've used it rigorously for seven days. Don't forget to return the base value of the wrench to the lowest torque setting and store it in a protective case. The case should be hard.
A well-built case ensures the device stays protected from moisture, rough environmental conditions, extreme heat, and even accidental misuse.
How to Use a Torque Wrench?
At this point of your journey, you should have the ideal product that suits your style. Be it for an automobile, DIY tinkering, bike adjustment, or for home use; you've got yourself a tool. But the job is only half done!
Trust me, if you don't know how to use these things, even buying the best torque wrench out there won't do any good.
As usual, I am here to help! The following video should explain how to use this thing without any hitch.
If you need a hand in interpreting the torque scale for "Click" types, this one should help.
How to Make Sure Torque Wrenches Stay in Shape?
The key to making sure any mechanical tool stays on track is proper maintenance. This goes for torque wrenches too. You need to recalibrate your wrench once every year or even sooner. But being careful enough, you can delay the inevitable. To make sure you don't need calibration all that often, simply check if you are doing these things by-the-book.
Keep your device in a dry place and locked up. This prevents moisture and rust from setting in and messing with the measurements.
Make sure you put the tool in a hard storage case. This prevents accidental damages due to misuse or sudden fall from a height.
Make sure to buy one that has a higher torque range than you normally work with. For example, if you need to work with 70-90 ft.-lbs.; get one that has a maximum capacity of 100 ft.-lbs. These wrenches usually mess up when you get close to their maximum capacity. It is best to buy one more powerful than you actually need to get the correct data.
When operating with "Click Type Torque Wrenches," be sure to turn the knob to the lowest torque settings after you are done. Keeping it on a high setting puts a strain on the spring. As a result, it loses efficiency.
If you haven't used your device for a long time, be sure to turn the knob in clockwise and anti-clockwise. This will get the juices flowing and loosen up the internal mechanism. Your device will be ready for use within moments.
Let's Wrap this Up!
If you're reading this and have gone through my guide on good torque wrench models and their maintenance, I must commend you! Indeed, it is a humongous guide. But quite frankly, it's the only one you'll ever need.
I understand picking one from a stockpile of products is different. If you ask me, you should balance it on price and performance. I am not an advocate for cheap products unless absolutely necessary.
Once you buy a wrench, make sure to calibrate it after 5000 uses or a year (whichever comes first). Besides calibration, proper maintenance will do the job.
Be on the lookout for manufacturers' warranty as well, popular brands do come with at least one-year warranty or more. Having an insurance helps a great deal. Especially, if you are just starting out. You finished the Best Torque Wrench Reviews.
Related Reviews