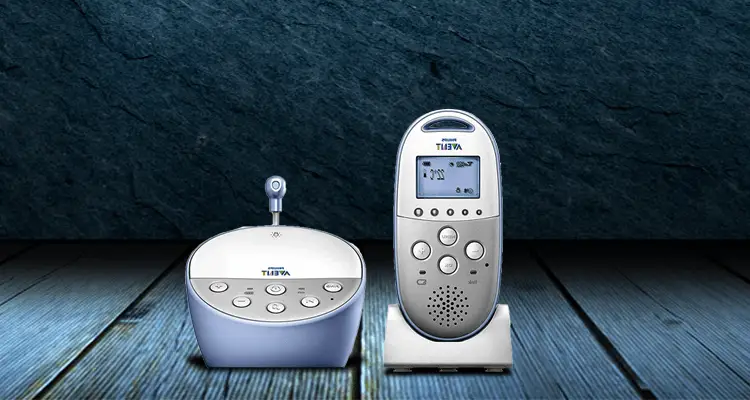 Stay connected with your sleeping child with added Philips Avent DECT Baby Monitor will keep you informed both day and night. You are guaranteed absolute privacy without the worry of hackers gaining access to your channel. You get the ultimate in privacy and security with this highly functioning system. Enjoy the freedom of going about your daily tasks while keeping an ear out for your sleeping baby. Extended range signal strength makes it possible for you to get the paper or visit with the neighbor across the fence. This monitor also keeps you informed about the temperature of your baby's room. Soothe a Crying baby before you get to the room with two-way talk. This unit comes packed with useful features that make it a must-have.
Whom this product is for
•Parents of babies and small children
•Grandparents
•Caregivers and Babysitters
Important Features:
Secure and private connection
DECT technology ensures that your privacy is fully guaranteed to be secure from hackers or unauthorize access. With this security, you will be the only person who is monitoring the activity of your child. This type of protection has been instated because of the high number of breaches that have happened in the past. The exchanges between you and your child will be private and protected from unwanted intrusion. This security feature enhances the safety of your baby and everyone else in your home.
Multiple alert systems
Feel free to answer the telephone and talk with the volume turned down. The vibration alert for the parent unit allows you to feel when a sound is made in the room you're monitoring. The gentle vibration is felt on the skin, so you are free to feel confident even when the volume is turned down.
Talkback feature
If your baby begins to cry when you are a distance away, you can easily soothe them with the sound of your voice.
Two-way talk allows you to give comfort while you're on your way to your baby before you arrive. You can also carry on a conversation with others in the room.
Extended signal range
The private and secure signal works with a range up to 900 feet. This gives you additional room to move around and still stay connected to your child. You can enjoy gardening or landscaping tasks with the security of knowing you'll be alerted if your baby makes a noise. The long-range feature makes it possible for you to calm and soothe a crying baby while you're making your way to their location. More freedom with the constant connection is the benefit of a longer signal range.
Room temperature monitor
Temperature extremes require constant monitoring to ensure the health and safety of your baby. This unit comes with a built-in room temperature monitor to keep you up to date with any changes. You won't need to guess what the temperature is because it will be displayed. This will give you useful information about when adjustments may need to be made. An additional feature of this sensor is that it is customizable so you can set it to alert you with a vibration alert if the room conditions become too warm or too cool.
What I Liked about this Product
A strong wireless signal with a good range.
Sensitivity adjustment noise level control.
Nightlight and lullaby.
Features two-way talk capability.
What I Didn't Like about this Product
The display screen is not lighted.
Temperature sensor range is limited.
Control menus are difficult to read.
**Common Queries About This Product**
Q1.Can temperature be viewed in Celsius or just Fahrenheit?
A.You can adjust the settings to view the room temperature in either C or F.
Q2.Does it work in a two-story house with concrete walls?
A.We use it in our two story home that has a few concrete walls. We haven't had any problems with signal strength.
Q3.Can the parent unit be plugged into the power supply or does it need to use batteries only?
A.The parent unit comes with a cradle that acts as a charging station. It charges as it sits, but the batteries are rechargeable. It's a lot like a mobile phone.
Q4.Can I operate two of these identical systems in the same house at the same time?
A. Yes, you can. There will be no interference on either monitor. They will not sync with one another.
Q5.Can this unit be used overseas?
A.Yes, as long as you purchase an adapter for the power charger.
Q6.How do you turn off the night light?
A.You simply tap on the light, and it will turn off. It is turned in the same way. You can't turn off the small green light on the baby unit because it is an indicator light.
Q7.Is this audio monitor as good as a video monitor?
A.It provides a different kind of monitoring service which some parents prefer. The audio monitor lets you know when your child is crying. It also lets you communicate, if you're not nearby. This can be soothing and be calming. It's difficult to compare the two because although they are both intended for remote monitoring, they are based on two different principles.
Q8.Can a separate parent unit be ordered?
A.No this is not an option because of the private encryption for each unit.
Experts Review
The Philips Avent DECT Baby Monitor with Temperature Sensor and Night Mode is a highly recommended product that we recommend as one of the best baby monitors on the market. Users give it high ratings, so we know that it is reliable, and it performs with great satisfaction marks. The privacy feature is a positive feature. When combined with the long range, sound clarity, and reasonable price, we found it to be an exceptional value.
On final verdict
We strongly recommend this product because of its quality, value, and usefulness for secure baby monitoring. The versatility of this unit also makes it useful for caregivers who tend to the needs of disabled adults. The two-way talk is an excellent way to stay on monitoring while completing other necessary tasks. It has made the grade as number four in our best baby monitor reviews. If you value privacy, security, and peace of mind, then this monitor is worth your consideration
Related Reviews