As an Amazon Associate, I earn from qualifying purchases
You'll find a very apparent misconception surrounding impact driver vs impact wrench.
People seem to consider them as the same thing. However, these two power-machinery pieces are very different from each other. The intensity of a task that each can support also varies.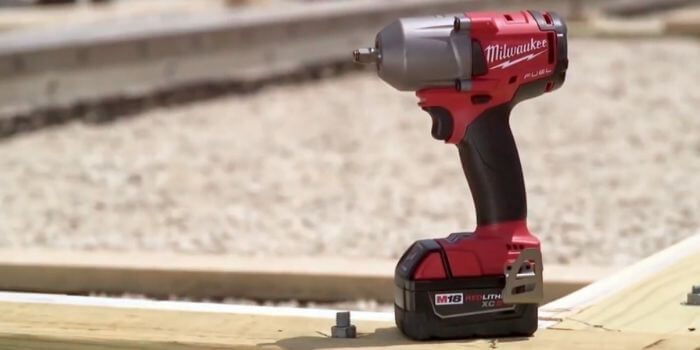 In this article for impact driver vs. impact wrench, we'll be helping you understand the differences between the two.
We will also be looking into some of the best models for each type. And lastly, we'll be giving you a side-by-side comparison, so you can decide which one would suit you the best.
What is an Impact Driver?
An impact drill or driver is one of the most versatile machines you'll find in the power tool industry.
The machine is primarily built to drive and tighten screws into wood, drywall, or concrete using an impact method. Thus, this is a fantastic tool for people who work with furniture.
Moreover, the machine also functions as a drill machine with the right chuck.
So, you're not limited to screwing things, you can also make holes into materials such as wood, steel, non-ferrous metals, and concrete.
This isn't the last of it. The driver will also function as a nut driver when attached with a socket adapter.
Thus, if you're trying to make assembly processes go quicker, this machine will be very handy.
However, it is necessary to note that a driver will only provide a limited amount of torque, as it is more of a general use tool.
Impact Driver or Impact Wrench?
Now that you know what the driver and the wrench does and their variations; it's time for you to understand which one is right for you to purchase, and which one fits your needs the best.
To understand this, ask yourself these questions-
What Type of Work Am I Going to Do?
If you're working on a DIY home project that doesn't require high levels of torque, then an impact driver seems like the better choice.
These drivers come with various other abilities that make them a great product to have at home for future use.
On the other hand, if you're looking for something that can work on an industrial-scale, then a wrench would be the better option.
You also need to consider the type of DIY job you're doing. If the DIY job involves building a project car, an impact wrench would be a more effective tool.
Is Versatility Vital to Me?
Consider yourself a mechanic, in which case, an impact wrench would make more sense for your everyday repair jobs.
This is because a wrench is a specialized tool that can get the job done quicker and more effectively.
However, at home, you'd want a machine that can do it all. In this case, getting a versatile impact driver that can drive screws, drill, and drive nuts would be a better deal.
How Much Am I Willing to Spend?
An impact driver is a simpler product that does not involve too many complications.
For this reason, these machines are available at prices below $100, being extremely easy to afford.
Impact wrench, on the other hand, is quite the extravagant piece of machinery.
These tools require very advanced and capable motors to run at such high-power rates, thus being much more expensive.
Top 3 Best Impact Drivers to Buy
Now that you understand what an impact driver does, you must find the right driver to meet your needs.
For this reason, we've reviewed the three best impact drivers in the market. This should help shorten the search for the right machine.
DEWALT DCD771C2 20V MAX Lithium-Ion Compact Drill/Driver Kit
DeWalt has always played a huge role in the power tool industry with its highly innovative products and exceptional quality machinery.
This DCD771C2 impact driver from DeWalt is one of its most powerful drivers with durable shells. Plus, the machine's available at quite an affordable price.
Talking about power, this impact wrench from DeWalt uses an immensely high-performance motor capable of generating around 300-unit watts of power.
At such high output ratings, the driver can run at a max speed of 500rpm, producing powerful torque ratings.
Such large torque inputs allow the machine to function as a great nut driver for general use.
The driver comes with a variable speed system for simpler processes and easier work, allowing you to switch between 450 and 1500rpm.
Moreover, the machine's lightweight and relatively compact size makes it easy to work with in almost setting. Additionally, the ½" ratcheting chuck will also provide a solid grip, so you can hold the bits tightly while working.
Being a cordless device, the impact driver will be usable in almost any location you want.
Plus, DeWalt provides a great variety of battery packs ranging from long use to convenience. You can choose whatever fits your needs the best.
Moreover, since the battery packs are compatible with all DeWalt cordless machines, they'll provide great value in the long-term.
Latest Article: Impact Driver vs Hammer Drill
BLACK+DECKER 20V MAX Cordless Drill / Driver
If you're looking for an affordable yet powerful machine for everyday home tasks, then this impact drill/driver from Black+Decker is a pretty good option.
Not only do you get the machine at a bargain, but also will you get an assurance of quality and durability.
This assurance comes from an almost century-old company that knows what they're doing.
The machine is very convenient to use, considering the soft grip plastic handles it comes with for added stronghold.
Plus, the machine also weighs less than 4 pounds, making it very easy to carry and use.
Furthermore, the driver's slim and compact size should allow you to get into tight spaces without a hitch.
In terms of power, Black+Decker hasn't included the most powerful motor in this machine.
However, the motor it has produces 750rpm, which should be enough for DIY home projects.
In this case, the nut driver won't be able to work on extremely tough projects. However, it'll be enough for home-use.
You'll also get 30 pieces accessory set with the device. In it, you'll find drill bits, screwdriver bits, nut drivers, and a magnetic bit tip holder.
All these bits should fit smoothly into the 24 clutch-setting 3/8" chuck that you'll get with the device.
Thus, you will have quite some versatility, making the price even more worth it.
Makita XT706 3.0Ah 18V LXT Lithium-Ion Cordless Combo Kit
This impact driver from Makita is a machine that can provide a significant amount of torque to compete with impact wrenches.
Thus, this device is the most powerful machine available on our impact driver list.
Apart from being the most powerful, this device also claims to be one of the more durable and efficient machines in the market, capable of handling tough tasks.
This impact driver comes with an extremely advanced motor capable of generating immensely high rpm without sacrificing any torque.
Since the machine includes such an advanced motor, it can reach speeds of up to 2900 rpm. With high speeds like these, the driver can reach a max torque of 1460 lbs.
So, you can complete a wide range of applications with it. Furthermore, for durability, the manufacturer has housed its gear-box inside a complete metal frame. It handles on-site mishaps pretty well.
Even then, the machine weighs only 3.3 pounds with the battery, being very convenient to work with.
The users can also find comfort thanks to the machine's ergonomic design and rubberized grips.
To power, the machine uses Makita's LXT technology. These lithium-ion batteries have the capability to meet even corded output demands.
Thus, be assured that the machine will provide constant power for uninterrupted workflow. Plus, with the affordable price tag, this machine is definitely worth buying.
Related Guide: 3/8 Torque Wrench Review
Impact Wrench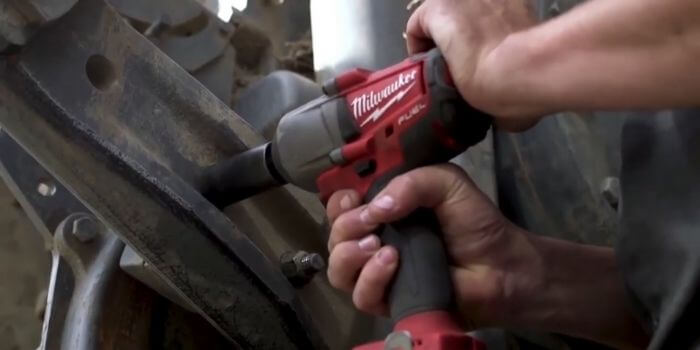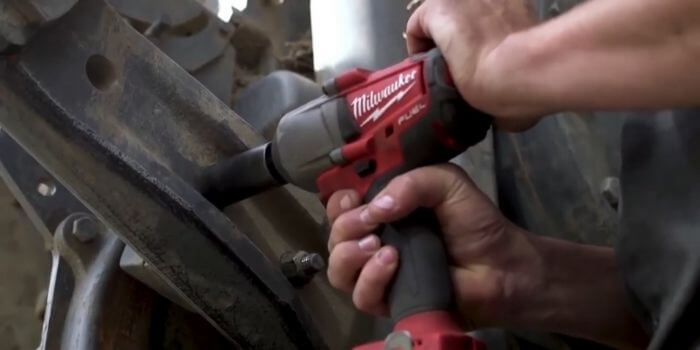 An impact wrench, better known as an air gun, is a machine built with a primary purpose of loosening & tightening nuts & bolts.
These machines may not provide the same amount of versatility you can get from impact drivers, but they tend to be much more powerful.
The primary use of these high torque machines are industrial or professional.
On this scale, the nuts & bolts that require tightening are much larger, needing the extra force.
Other than that, impact wrenches are available in various forms of power inputs, such as corded, battery-powered, air-powered, and hydraulic.
Thus, these wrenches are extremely crucial tools for mechanical and construction workers.
Top 3 Best Impact Wrenches to Buy
Like the impact drivers, the market for impact wrenches is already saturated with a large number of manufacturers.
To make sure you're making the right choice, we have found the best three products.
These would meet more than your general nut loosening and tightening needs, while also making your life easier.
Milwaukee M18 FUEL Cordless 1/2 in. Impact Wrench
When it comes to busting out rusty old nuts from bridges, or tightening down nuts on steel pillars, you can't rely on a simple impact driver.
Instead, what you need is these brilliant, heavy-duty impact wrenches from Milwaukee.
They produce massive amounts of force that allows the machine to perform great feats.
The brushless motor is one of the most important secrets behind this machine's immense power.
These advanced motors can produce almost 1000 ft./lbs. of torque when fastening a nut, and over 1400 ft./lbs.
when loosening. Such immense forces allow the machine to run on a more industrial scale.
Talking about industrial scales, the machine's two times loosening speed further helps to make production units much more efficient.
Other than the immensely powerful motor, the machine also includes a 4-mode drive control system.
This system gives the user control based on type of bolt/nut being removed, which ensures the most optimal output.
Additionally, the cordless machine comes with Milwaukee's highly acclaimed lithium XC5.0 batteries.
These batteries provide the impact wrench with constant speed, and ease your life with their battery charge detection system.
Moreover, the wrench weighs less than 9 pounds, so the device is relatively easy to use.
DEWALT 20V MAX XR Impact Wrench Kit
The DeWalt Max XR is one of the beefiest machines DeWalt has to offer. Unlike their impact driver, this machine can give a serious punch.
With a brushless motor added in the device, DeWalt has built something highly efficient & powerful. Plus, at the amazingly affordable price, this machine is a steal.
Under a solid steel shell, this battery-powered device runs on one of the most advanced and highly durable motors.
Thus, it generates rpms that hit a max rating of 1900rpm, and a foot torque rating of 700 ft./lbs.
These figures may seem a bit smaller than the previous machine we talked about, but this is a strong enough torque to carry out challenging tasks.
Furthermore, unlike the last machine we reviewed, this one is greatly lighter, weighing around 7 pounds.
Moreover, the machine also features an ergonomic and compact design. Thus, it is a great tool for reaching into small and dark spaces, made possible thanks to the LED light added to the front.
The device also comes with variable speed control abilities. These allow the rotation speed to vary from 0-400rpm/1200rpm/1900rpm.
Thus, you will have the ability to control the device based on the type of nut or blot and its state.
In the box, you'll also receive an XR battery pack with lithium-ion tech for smooth power delivery.
AIRCAT 1150 Killer Torque ½-inch Impact Wrench
If you're working in the motor vehicle industry, the impact wrenches you require aren't going to be battery operated.
Instead, you'll have to focus on pneumatic guns. These guns use the force of compressed air to drive the impact wrench.
Pneumatic guns are relatively more convenient to use, and this Aircat is a recommended tool for the motor vehicle industry.
The recommendation is done due to the sheer amount of power the wrench can deliver. Generating around 1295 ft./lbs.
of loosening torque and a max tightening torque of 900 ft./lbs., the machine can complete challenging tasks.
Additionally, the extra 1400 blow per minute further allows increased impacts, which make the tool more effective
But this AirCat is not all about power.
It is also a reasonably comfortable machine to use. The patented ergonomic design of this machine's handle will make the tool very easy to hold for long hours.
Furthermore, since the AirCat weighs only 4.6 pounds, it is super comfortable to hold and carry to and from work sites.
This device is lightweight thanks to its aluminum build. The aluminum further ensures its durability, allowing it to take quite a bit of beating if mishaps happen.
To ensure the user's ultimate comfort, AirCat has also included a quiet tuned exhaust system; thus, taking down noise to only 86 decibels.
Conclusion
We hope that you could clear out your confusion from this impact drivers vs impact wrenches article.
You should now have a good enough idea of the device you need to purchase to get the most optimal use and the best value for money.